Once, while watching the events in Budennovsk on the television set, I thought, as many in Kazakhstan do now - that this was all far away and it would never touch me. But the three huge acts of terror in the world - the destruction of the Twin Towers in New York, the seizure of hostages at the Moscow theater at Dubrovka, and the seizure of hostages at the school in Beslan - each of them brought grief to families in Kazakhstan.
Many in Kazakhstan have relatives, children, friends, and loved ones who travel to Russia and to Moscow. At any moment one of them can find him or herself in the same situation that we, Svetlana Gubareva and Natasha Gutnova, did.
I could not save my family, and I lost that, which I held most dear in life. No amount of money can ever replace this. What I am now doing is an attempt to protect others, so that they might not be poisoned with gas, as was my daughter Alexandra Letyago in that Moscow theater, so that they might not be blasted by tanks, as was Zaur Gutnov in that Beslan school.
Written by Лента.ру
Пятница, 09 Декабрь 2011
This statement was made at the beginning of a meeting of security service expert from nations of the Commonwealth of Independent States, a meeting organized by the Anti-terrorism Center of the CIS.
The situation in the CIS countries and on their external borders remains unstable, according to a report from the correspondent from Tengrinews.kz.
One of the main causes of tension cited was the emergence of new terrorist and extremist organizations.

Be first to comment this article | Views: 4479 | E-mail
Read more...
Written by РИА Новости
Воскресенье, 04 Декабрь 2011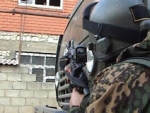 During a briefing on Sunday, the official representative of the Office of the Prosecutor General of Kazakhstan, Nurdaulet Suindikov, gave information about a raid in southern Kazakhstan that broke up a terrorist group. Five criminals and two security force soldiers were killed during the operation.
On December 3rd at about 7:30 pm (5:30 pm Moscow time), in the village of Boraldai in the Ilisk district of the Almaty region, during the arrest of persons suspected of committing serious crimes, police met with armed resistance by criminals who had blockaded themselves inside a house in the village.
"During the raid two members of the Arystan unit of the (Kazakhstan) National Security Service were wounded and killed," said the prosecutor. "As well as five criminals."

Be first to comment this article | Views: 3140 | E-mail
Read more...
Written by Лента.ру
Суббота, 12 Ноябрь 2011
Kazakh prosecutors acknowledge terrorist attack in the city of Taraz
Following shootings and explosions in the city of Taraz in South Kazakhstan, a criminal case was opened on two counts — murder and the commission of terrorist acts. According to 'Interfax', Deputy Attorney General of the Republic Nurmuhanbet Isayev made this statement on November 12th. The official stressed that the city had only suffered a single explosion, and not four as reported by some media sources. He also denied reports that there is a curfew in Taraz.
According to prosecutors, on Saturday morning, 34-year-old M. K. Kariyev  (previously identified as Kaliyev), a follower of jihadist ideas, robbed a Taraz resident and stole his car. After this, he robbed a gun shop in the city. After killing a guard and fatally wounding a customer, Kariyev stole two 'Saiga' hunting carbines and ammunition, and fled.

Be first to comment this article | Views: 3107 | E-mail
Read more...
Written by Роберт Келлер
Четверг, 10 Ноябрь 2011
On Friday, November 4th, it seemed as if the city of Karaganda was paralyzed. Life looked as if it had come to a halt: cafes and restaurants were deserted, and there was almost no one out in the streets, while parents came and took their children home from school and kindergarten. People were afraid to ride the buses, and it was impossible to catch a taxi. But the main thing – there was information, by word of mouth, regarding alleged acts of terrorism, murders, and hostage taking… It was the first time ever that the coal-mining capital of Kazakhstan had ever been enveloped in such a wave of panic.
It all began last Monday, when two powerful explosions thundered in the city of Atyrau. At 8:45 am local time, a powerful explosion occurred in a garbage bin near the regional akimat. A few moments later, an unidentified man blew himself up in vacant lot near an apartment building. It has now been determined that he was 24-year-old Baurzhan Sultangaliyev. The bomb, as a matter of fact, exploded by accident, and the Islamic organization 'Caliphate of al-Juanda' claimed responsibility for the bombings.

Read more...
Written by Лента.ру
Среда, 09 Ноябрь 2011
General Prosecutor's Office confirms the organization's involvement in the Atyrau terrorist attacks. Investigation reveals details about the Atyrau terrorists.
Today, November 9th, the General Prosecutor of Kazakhstan unveiled details about the Atyrau terrorists, Tengrinews.kz reports.

Be first to comment this article | Views: 5663 | E-mail
Read more...
<< Start
< Prev
1
2
3
4
5
6
7
8
Next >
End >>
Results 19 - 27 of 64