Once, while watching the events in Budennovsk on the television set, I thought, as many in Kazakhstan do now - that this was all far away and it would never touch me. But the three huge acts of terror in the world - the destruction of the Twin Towers in New York, the seizure of hostages at the Moscow theater at Dubrovka, and the seizure of hostages at the school in Beslan - each of them brought grief to families in Kazakhstan.
Many in Kazakhstan have relatives, children, friends, and loved ones who travel to Russia and to Moscow. At any moment one of them can find him or herself in the same situation that we, Svetlana Gubareva and Natasha Gutnova, did.
I could not save my family, and I lost that, which I held most dear in life. No amount of money can ever replace this. What I am now doing is an attempt to protect others, so that they might not be poisoned with gas, as was my daughter Alexandra Letyago in that Moscow theater, so that they might not be blasted by tanks, as was Zaur Gutnov in that Beslan school.
Written by Султан-Хан АККУЛЫУЛЫ
Понедельник, 08 Август 2011
Could Kazakhstan's security forces cope with the threat of real militants?
The clashes between police and members of religious groups in the Aktobe region seem to have caught the Interior Ministry security forces unawares. Roundtable participants on Azattyk radio say that security force losses were due to the fact that Interior Ministry soldiers only have experience with fighting civilians.
The events last April in Almaty, when 11 commandos from the
This topic will be discussed on Radio Azattyk at a roundtable with the participation of: Oraz Nurdilda — Press Secretary and chief of the department of state language development, information, and international cooperation at the Interior Ministry; Amirbek Togusov — Major General and former vice-minister of defense; Arat Narmambetov — retired colonel of the KNB (Kazakhstan State Security).
Interviewed separately was former deputy chairman of the KNB and founder of Kazakhstan's commando units "Alpha" and "Arystan", Boltat Ashikbayev, now deputy director of the company Kazatomprom. Due to his absence from Kazakhstan, he expressed his opinions in advance.
Roundtable moderator was Sultan-Khan Akkulyuly of Radio Azattyk.
"Sunkar" commando unit were killed trying to capture 3 extremists holed up in an apartment, as well as bombings in Aktobe and Astana, and continued fighting in the Aktobe region — what does this tell us? Are the law enforcement agencies of Kazakhstan, including commando units such as "Arlan", "Sunkar" and the like up to such emergencies?
Be first to comment this article | Views: 5096 | E-mail
Read more...
Written by Лента.ру
Понедельник, 11 Июль 2011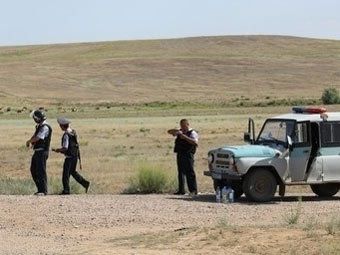 In the Aktobe region of Kazakhstan (in the western part of the country) a special operation against extremists responsible for killing several policemen was completed. Radio Azattyk (a regional service of Radio Svoboda) broadcast the report from Interior Ministry spokesman Almat Imangaliyev.
The criminals were located and surrounded in Kenkiyak, a village near Shubarshi, where in early June several police officers were shot and killed. In the ensuing firefight a special operations commando was killed and a police officer wounded.
The house where the criminals were hiding was stormed on July 9th. As a result, nine of the resisting extremists were killed; among them were six who were on the most-wanted list for murdering police officers.

Be first to comment this article | Views: 3091 | E-mail
Read more...
Written by Олег Горелов
Среда, 06 Июль 2011
Almost simultaneously in Makhachkala and Chelyabinsk, law enforcement officials detained several armed citizens of Kazakhstan who had come (to Russia) to take part in the jihad. Until recently, hunters of human cannon fodder could feel completely at ease in Kazakhstan. As a reporter for 'Nasha Versiya' found out, extremists from the Caucasus not only managed to create an extensive network of training bases where new Kazakh militants are taught to use weapons and explosives, but they were also able to set up transit routes to send them to Russia's southern regions.

Be first to comment this article | Views: 3915 | E-mail
Read more...
Written by Светлана Губарева
Среда, 06 Июль 2011
'Rossiyskaya Gazeta' on July 6, 2011, published a list of organizations and individuals against whom there is evidence of involvement in extremist activities or terrorism. The organizations and individuals were noted, according to 'Rossiyskaya Gazeta', as there is evidence of their involvement in terrorism.

Among the more than 2,000 entries there is information about persons from Kazakhstan.

Read more...
Written by Almanews
Четверг, 09 Июнь 2011
A Kazakhstani was on a list of 52 suicide bombers being prepared for terrorist attacks in the Russian Federation.
Life News has in its possession a unique list of the most dangerous terrorists of the North Caucasus. In it, the security services name 52 militants as potentially ready to commit acts of terrorism anywhere in the Russian Federation. The complete list of suspects consists mainly of natives of the North Caucasus, mostly from Ingushetia.
Among the most "active" were the republics of Dagestan and Kabardino-Balkaria. "Weaker" than others were the Stavropol territory, Karachay-Cherkessia, and Chechnya — Life News lists no more than 3 or 4 names from the latter three regions.

Be first to comment this article | Views: 3164 | E-mail
Read more...
<< Start
< Prev
1
2
3
4
5
6
7
8
Next >
End >>
Results 28 - 36 of 64